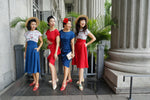 PORTRAITS OF THE 40s
"The year is 1948, and it is half past two on a sunny May afternoon.
 Irene is nearly ready; She is checking her neatly rolled hair and applying another layer of red lipstick before she hits the door.
 She is in a chirpy mood and feeling excited to meet her friends, Darling and her younger sister Margaret. They planned to visit a newly opened store, rumoured to carry the latest looks of the season, complete with trendy and unique accessories!
 Around the corner from the boutique, stands a charming lil tea house that serves the  best Victorian sponge in town, with lots of fresh cream and strawberries.
 The ladies will be meeting Ruth, Darling and Margaret's cousin, for a cuppa, cake and girly chats at the tea house after some shopping.
 Irene knows it is going to be a delightful day as she approaches the boutique."